Features

Independent of mounting position: The relay can be mounted in any position without loosing it's function. Therefore running the motor in any position is possible.
Simple mounting: The relay can be mounted at any place within the motor, outside of the motor or beside the motor. For this reason the relay can be used very flexible in many applications and is totally independent of the mechanical design of the motor.


High durability: The functional design in connection with valuable fabrication is guaranteeing a high durability. More than 1.000.000 switching cycles are possible.


Electrical and mechanical safety: The closed design on all sides prevents from spark-overs to ground metal parts without any special measures. Any intervention into the mechanics is impossible.
Mounting and connecting

The mounting of the relay is very simple. The realy can be mounted at any place using two mounting holes. For space requirements and mounting dimensions please refer to corresponding data sheet.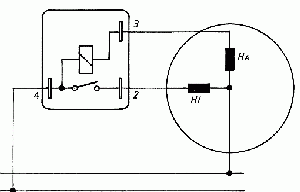 For easy connecting, the relay
is supplied with flat push-on
connectors (6,3 x 0,8 mm).
For details see terminal diagram opposite


HA ... main winding
Hi ... auxiliary winding
© Copyright 2005-2018 Max Vosseler GmbH & Co. KG Alle Rechte vorbehalten.
Max Vosseler GmbH & Co. KG
Spittelbronnerweg 35
D-78056 Villingen-Schwenningen
Tel.++49 - 7720 - 4421
Fax ++49 - 7720 - 64870, - 95052
Email contact@max-vosseler.de
centrifugal switches rotary speed switches starting relays coin operated switches springs